Keeping a big group of people entertained for a long time is already a challenge. It's even more challenging for professional drivers who need to stay focused on the road.
Tour bus entertainment systems are a great way to engage your customers and attract new ones.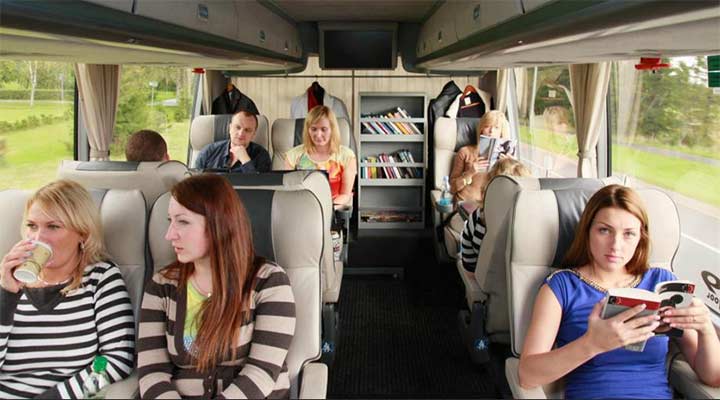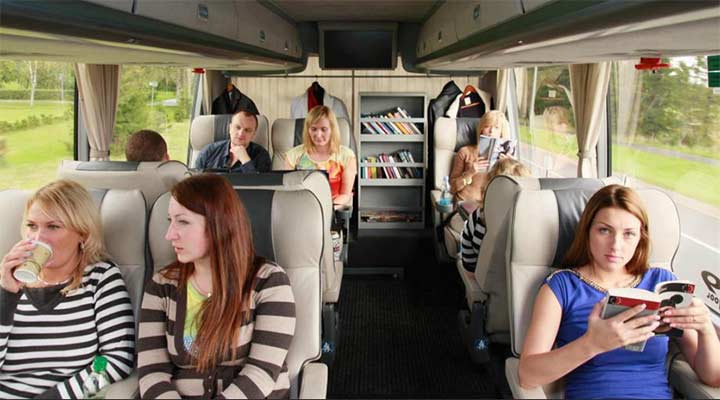 Neltronics Australia offers everything you need to put together your own custom tour bus entertainment system.
Neltronics sell bus DVD players, bus video equipment, monitors, wall and ceiling screens, headrest players and screens, and audio gear to keep your passengers engaged and entertained.
If you drive a tour bus, educational videos can conduct a tour for you or give valuable supplemental information. Maybe you drive a passenger coach bus and just need to give the passengers something to watch.
Playing advertisements for your passengers can add a new revenue stream to your bus.
In an age when everyone is used to having a screen in front of them all the time, a coach video entertainment systems can be a strong asset. Not only do they entertain your passengers, but makes it easier for the driver to concentrate on the road knowing passengers are being looked after.
One of our most popular tour bus entertainment video head units is the NESA DVM-612. This is a single DIN DVD media player that works in a 12-volt or 24-volt vehicle. It looks like a regular aftermarket car stereo, but it's much more powerful and versatile than that.
Not only is it an AM/FM radio with a CD player, it's also a coach DVD player with a front USB port and SD card slot. A rear USB port gives you the option to connect it to a portable HDD up to 500Gb.


(NESA DVM-612 single DIN 24V media player with microphone input)
It even has a microphone input with a switchable echo effect. That means it doubles as an intercom if you don't already have one in your bus or if you need an upgrade. It comes with two video outputs and an on-board amplifier. If you want to use a more powerful amplifier, it has an audio pre-out hookup.
Included with the DVM-612 are a remote control, ISO power/speaker cable, and a mounting cradle. It's a great, well-rounded  tour bus multimedia head unit at a good value. If you're looking to make an upgrade to your current system, this is a strong option.
If you're looking for something a little more advanced, consider the NESA DVM-518N. It serves as an AM/FM stereo, CD player, and coach DVD player like the DVM-612, but this one has four video outputs and supports YPbPr output for better video quality.


(NESA DVM-518N single DIN 24V media player with microphone input)
Other similarities with the DVM-612 include the microphone input, USB port, and SD card reader. One of the big differences is in the aesthetic. The all black-and-white hardware gives it the look of professional coach multimedia equipment and that's exactly what it is.
Finally, the biggest feature that makes this bus video player stand out is the NESA DVM-518SSD model. The DVM-518SSD is the same as the DVM-518N, except it comes with an integrated 64Gb solid state drive. You can save audio and video files right on the unit. This is great for advertisements, background music, or popular videos that you know you'll use often. With an SSD, you don't have to worry as much about keeping track of CD's, DVD's, or SD cards that contain the content you need.
To complement these head units, you're going to need bus LCD monitors so your passengers can see the video. Bus monitors come in a few different forms. The low-cost option is a simple fixed mount screen like the NESA NSB-1851 LCD screen. This is a good option if you need a few screens without breaking the bank.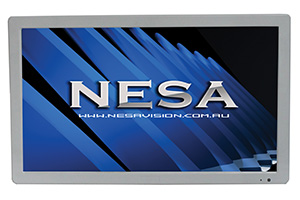 (NESA NSB-1851 fixed, wall mounted, 18.5 inch LCD monitor)
The next step up is a motorized bus screen. Motorized bus screens are often remote controlled and automatically fold up when powered down. While this is a more expensive option, it could act as a long-term investment. When screens are closed, they're less susceptible to damage and the screen stays in better condition for a longer time.
There are a few different options from Neltronics for motorized screens.
The NESA NSB-1925M is an 18.5" LCD screen with an RCA input.  The NESA NSB-1909M is a 19" LCD screen with an RCA input and an HDMI input for HD resolution.  Finally, there's the full NESA HD NSB-2200M with 1080p resolution, RCA and HDMI inputs, and a beautiful LCD screen.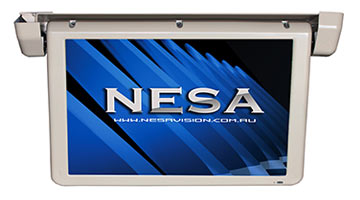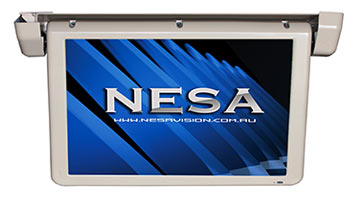 (NESA NSB-1925M motorised drop-down 18.5 inch LCD monitor)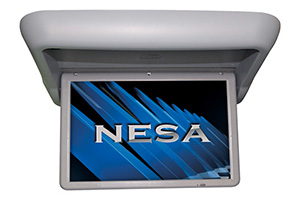 (NESA NSB-1909M motorised drop-down 19 inch LCD monitor with HDMI input)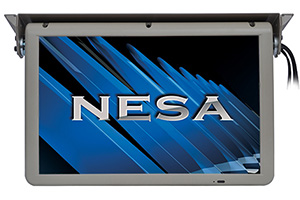 (NESA HD NSB-2200M motorised drop-down 22 inch LCD monitor)
Installation for all of these devices is faster and easier than you might expect. They come with instructions, wiring diagrams, and any cords you might need to get your bus entertainment system up and running.
Whether you're looking to get new customers or just want to provide some entertainment for passengers and yourself, a tour bus entertainment system is a great way to do that. Play all sorts of the most popular media with quality audio and clear tour bus video with the range of bus electronics from Neltronics.