If you're a professional bus or coach operator you're always looking for ways to improve the ride for your passengers. It can be challenging to keep a bus full of passengers entertained or engaged on a long trip.
A great way to improve the passenger experience is with a bus/coach roof mount screen and video multimedia system. This system can include a range of video screens and media players and let the driver communicate with the passengers via a PA system.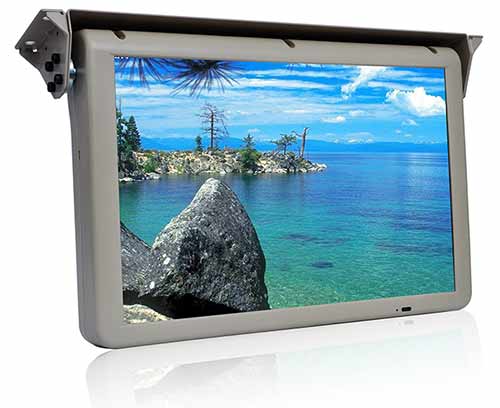 On long trips, you can play movies to make the passengers trip feel shorter.
On a tours, you can play historical or educational videos that relate to their tour. Maybe you're looking for some extra revenue and you want to play advertisements on your bus or coach. There are countless ways a bus/coach entertainment system can improve the customer experience.
No matter what you're looking for in a bus/coach entertainment system, Neltronics Australia has you covered.
Neltronics sell LED screens which have higher brightness and resolution, longer life and 50% lower power consumption compared to older standard LCD screens.
Since you can fold these roof mount screens away, they'll be safe from damage when they're not in use. You don't have to worry about them getting bumped into or scratched when no video is playing. You can even adjust the angle via remote control.
The video input for these screens is usually the common RCA input making it compatible with a very wide range of video equipment.  Newer models have a HDMI input as well.
Our first model in our roof mount drop down screens is the NESA NSB-1909M. This is a 19" LED screen with an HDMI input. It also comes with an RCA input making it extremely versatile.
The NSB-1909M can play Full HD video though it's resolution is 1440 x 900.  Any Full HD video you play through this screen will automatically convert to this resolution.
The aspect ratio is the standard 16:9.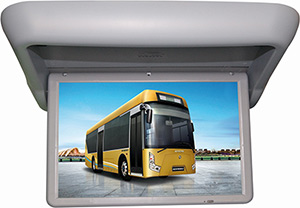 (The NESA NSB-1909M motorized mount 19 inch Full HD LED screen with HDMI input)
If you are looking for a larger screen or Full HD, then the NESA NSB-2200M is a 22″ LED screen with Full HD resolution of 1920 x 1080.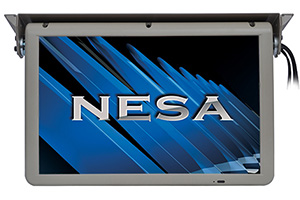 (The NESA NSB-2200M motorized mount 22 inch LED screen)
Something to consider when choosing your roof mount screen is your audience. If your passengers are going on expensive tours, they're going to expect the finest screens. If this is the case, you'll want the full NESA NSB-2200M.
However, if you just want to run ads while hauling your passengers around or if your customers are on a lower-cost tour, the simple fixed-mount NSB-1851 would be more than sufficient. While it is the budget model, it still gives you a beautiful picture.
A screen on its own is no good without some sort of media player. You're going to want a commercial media player in order to play DVDs or some other digital media via USB or a similar format.
If you need a media player for your bus/coach entertainment system, Neltronics offers multiple high-end options.
For a combo media player and roof mount screen unit have a look at these models…
The NESA NSC-156 is a 15.6″ screen and media combo with an in-built DVD player, RCA and HDMI video inputs and also has a USB socket for playing video also.
It comes with a full function remote control and the unit is available in dark grey.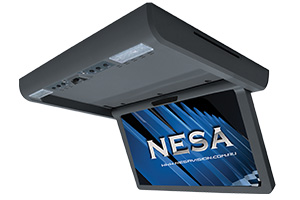 (The NESA NSC-156 is a 15.6″ roof mount screen and DVD and media player).
Neltronics also offers other DVD and media player combo units.  Check out them here.
Neltronics is an Australian company and provides service and warranty on all their products.
Once you have your media player and your screens, we recommend professional installation. While it's possible to do it yourself, getting it installed by a car or bus audio professional can help ensure it will work perfectly the first time.