Have you ever been in a situation where your car wouldn't start in the middle of the road? If you are a frequent driver, a flat battery can cost precious losses in terms of man hours as well as the stress to find help.
Having to push the car off road, waiting for hours and desperately looking out for help is something not everyone is made for. And with our heavy duty jump starter, the Epower-99, you do not have to worry about these troubles any more.
The Epower-99 has a large powerful battery of 40000mAh with a peak current of 1200A which will make this jump starter start any vehicle from passenger cars to big rig trucks. On a full charge, you can use this jump starter not once, not twice, but in fact around 30 times to start up a vehicle.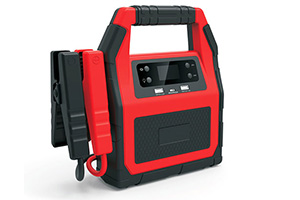 Since some vehicles come with a 12V battery and others with a 24V battery, this jump starter is designed to function with both of them!
While jump starters with capabilities like Epower-99 can cost you anywhere from $500 to $1500, the Epower-99 will cost you less than $400. Compare that to the stress of a flat battery when your vehicle is on the road.
What makes Epower-99 so special?
The Epower-99 is compact in size. Jump starters of this power can generally be 3 times its size. But Epower-99 has a sleek and slim body, allowing you to store it easily under the seat or anywhere else in your vehicle.
The Epower-99 jump starter utilises a Lithium Polymer battery instead of a lead acid type like others on the market. This type of battery not only packs a punch in terms of its power, but is about a quarter of the size and weight of other batteries with the same capacity.
Further, Epower-99 is compatible with both 12V passenger car batteries as well as 24V commercial utility trucks and even landscaping vehicles. Therefore, there is nothing that Epower-99 cannot start. You can use it for every vehicle!
The Epower-99 is a multi-utility power pack. With two built in USB ports, you can now charge your phones or any other USB compatible device. This includes your Smartphone, digital camera, Tablet, or anything that works with a 5V USB.
Additionally, it can be a tough job to use a car starter or any other equipment at night time, when you might need it the most! To solve this issue, the Epower-99 has a built in LED torch with multiple features like flashing SOS, that will enable you to use it at night with ease and even find help if needed.
The Epower-99 has an enormous battery backup. It can last up to a whole year on a single charge. In that time period, it can start your vehicles up to 30 times!
And lastly, Epower-99 also comes with a six-layer protection system as well.
Epower-99 six-layer protection system:
1. Short circuit protection makes sure that the equipment is safe if a short circuit occurs due to clamps being connected.
2. Over temperature protection enables automatic stopping Epower-99 when the temperature becomes too hot and malfunction might occur.
3. Over charge protection makes sure that the jump starter battery is charged to the maximum level and stops charging after that.
4. Reverse polarity protection protects your vehicle battery as well as the Epower-99 in case of the terminals being cross connected.
5. Over discharge protection makes sure that the jump starter battery does not get discharged below the minimum level.
6. Reverse charge protection helps in stopping the reverse current to the jump started once the battery has started.
Other jump starters with similar features can cost you three times the price. However, we have made sure to make Epower-99 friendly for your pocket.
Epower-99 is available for less than $400 (check out our latest price here), significantly cheaper than any other jump starter available on the market.