Exceeding the speed limit attracts hefty penalties, and many Australian and New Zealand drivers have learned it the hard way with police using numerous types of speed camera technologies. Many motorists find it difficult to monitor the speed of their vehicles while paying attention on the road.
Drivers can avoid these troubles by investing in a device that monitors speed. Such a device is an advanced radar/laser detector.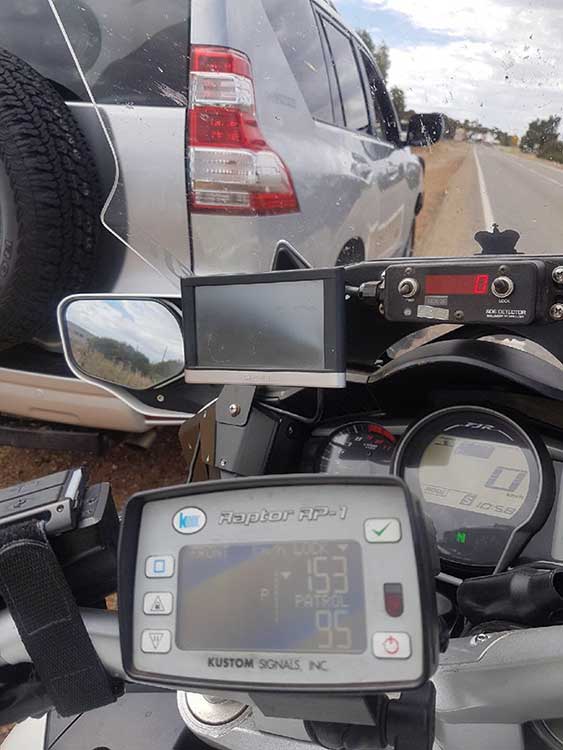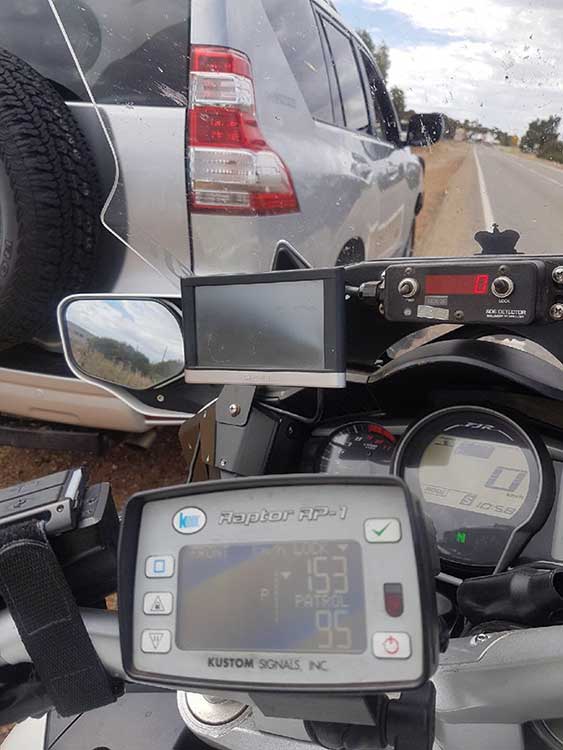 (Raptor RP-1 radar speed measuring device used in a number of Australia states by local law enforcement – this one is mounted on a police motorcycle)
Not so long ago, it was easy to avoid falling into the trap of traffic police. Today, Australian police use state-of-the-art speed camera equipment to catch speeding motorists. These advanced technologies make it difficult for motorists to escape accidental speeding.
Only motorists with modern, advanced speed measuring devices can detect these threats.  Which technologies are Australian police using to catch speeding motorists?
Australian police have invested heavily in various technologies for detecting speeding vehicles. Statistics show that the number of motorists who are caught by traffic police for this offence is increasing at a high rate. This can be attributed to the high effectiveness of the equipment being used by traffic police.
Although there are various speed camera technologies for measuring the speed of moving vehicles, the most commonly used technologies in Australia are radar and laser equipment. These speed measurement devices are highly accurate as compared to older technologies.
Check out our speed measuring in Australia for a comprehensive list of speed detection technologies used by Australian and New Zealand traffic police. Without a high performance radar/laser detector, it is difficult for a motorist to escape fines.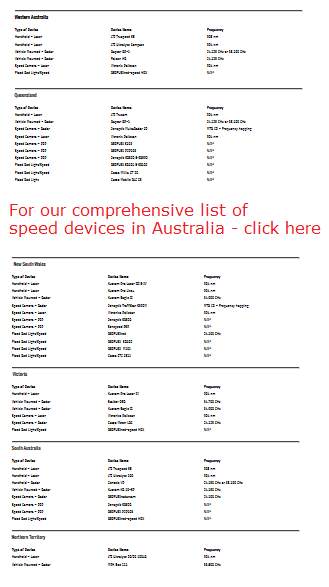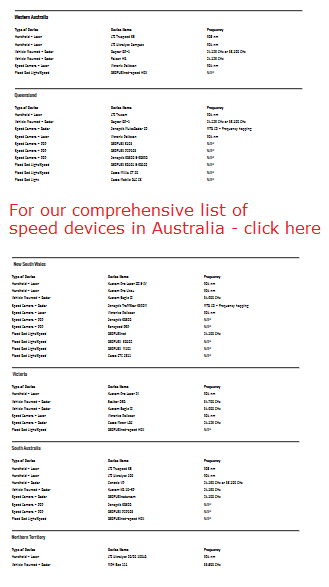 Radar and laser devices use different principles to measure the speed of moving objects. A basic radar speed device features a transmitter and a receiver. The transmitting section generates signals that are broadcasted in a particular direction. On the other hand, the receiving section is designed to pick up the reflected radar signals.
The system determines the speed of a vehicle from the transmitted and received signals. For more information about the working of this speed gun, check this article on how radar speed guns works.
The principle of operation used by laser speed camera detection technology is nearly similar to the one used by radar devices. Also known as LIDAR, these devices use bursts of infrared light signals to measure the speed of a vehicle. How does this speed gun work?
The light produced by a laser speed gun travels to the vehicle and is reflected back. The system measures the time that a signal takes to travel to the vehicle and back and uses it to determine the speed of a vehicle. To ensure high accuracy, these speed guns produce many light bursts within a short period of time.
Apart from radar and laser speed measuring technologies, Australian law enforcement is also using other newer technologies.
For example, traffic police is many parts of Australia are using point-to-point speed detection technology to catch speeding motorists. Unlike radar or laser, P2P speed systems calculate the time that a vehicle takes to move between two points. This speed trap is commonly used by law enforcement in Western Australia.
Some modern radar/laser detectors include GPS and contain a database of fixed speed traps including point-to-point speed locations.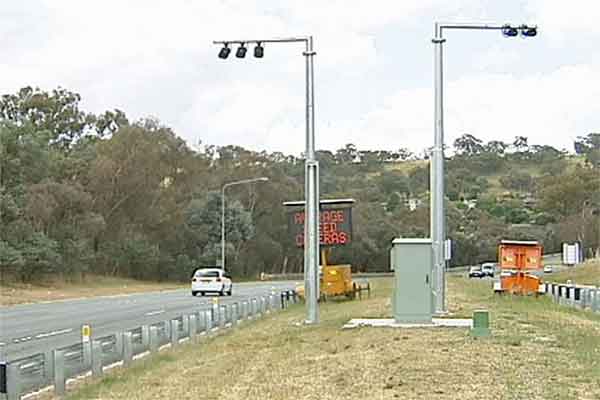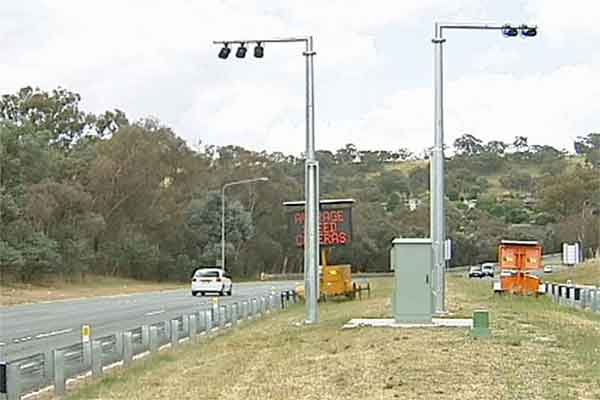 (Point-to-Point (P2P) speed trap is Australia – photo courtesy of ABC.)
For more information about this speed trap, read this article on point-to-point speed cameras.
Neltronics Australia, a leading provider of after-market products to Australian motorists, offers different types of high performance radar/laser detectors. Some of our best sellers include the Escort Redline-EX, Escort Max 360c, and the Escort IX.
For more details about these radar/laser speed camera detectors, check out our page on radar detectors.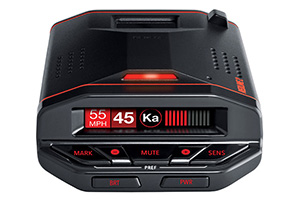 (the Escort Redline EX international advanced radar and laser detector – available from Neltronics Australia)
Are you planning to buy a radar/laser detector for your vehicle? If your answer is yes, then it is important to ensure that you order the genuine product (not an inferior Chinese counterfeit) from a reputable dealer.
For many years, Neltronics has been providing Australian motorists with reliable vehicle safety electronics. We are committed to providing our customers with products that deliver value.
In case you are looking for a device that will help to improve your safety on the road, then you should invest in a high quality radar/laser detector such as the Escort Redline EX, Escort Max 360, or the Escort IX. Apart from enabling a motorist to monitor the speed of a vehicle more easily, a radar/laser detector also helps a motorist to pay more attention on the road.
Neltronics Australia stocks a broad range of radar/laser detectors that are optimised for speed cameras used by Australian and New Zealand police. Contact us today to learn more about our products.