What are the benefits of having a dual camera dash cam over the typical "normal" single dash cam?
After an accident has occurred, many motorists are unable to get a witness who can provide accurate evidence. Many innocent motorists are charged for offences they have not committed because they lack evidence to support what they claim. Fraudsters intentionally cause accidents with the aim of obtaining money from innocent motorists or insurance companies. A dash cam is a perfect witness that enables a motorist to avoid extortion.
A dash cam is a camera that records everything that you encounter on the road while driving. When properly installed, this camera records every moment that is worth capturing. It records crazy animals on the road, near-misses, accidents, and so on. Unlike an ordinary camera, a dash cam does not miss any moment.
Statistics show that many Australian motorists and insurance companies have lost money to fraudsters. With a dash cam, you can easily defend yourself if a fraudster is trying to blame you for causing an accident. Since the drive recorder captures a clear video file of the entire incident, you can easily win the case and escape the trap of a fraudster.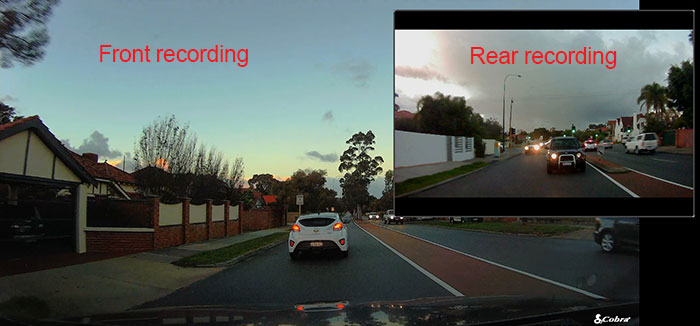 Are you looking for a device that can provide unbiased evidence if something happens when you are driving? If your answer is yes, then you should consider a dash cam.
Neltronics offers a wide range of top-quality dash cams that are optimized for the Australian motorists. The Cobra Dual Camera Dash Cam is a powerful camera system that simultaneously captures the front and the back of your car. With this dash cam, you can drive confidently without worrying that a fraudster will hit your car from the front or the back and blame you for it. The Cobra CDR895D is no longer available in Australia, for our current range, click here.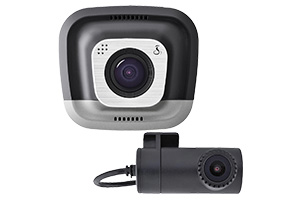 (the Cobra CDR895D dual camera dash cam)
The Cobra Dual Camera Dash cam is designed to capture Full HD 1080p video files at 30fps. The rear camera of this drive recorder system captures HD 720p video files. To enable motorists to view video files from both cameras with ease, this video recording system offers split screen view. With this display, you can watch files from both cameras at the same time.
It is common for motorists to drift out of a marked lane without noticing it. With the Cobra Dual Camera Dash Cam, you can't drift from your lane without intending to do so. To enable you to stick to your lane, this drive recorder features a lane departure warning system that gives a warning when you drift from your lane.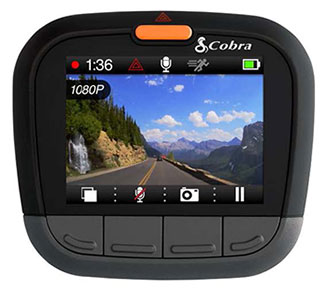 When properly installed, the Cobra CDR895D Dual Camera recorder captures high quality video files. This dash cam comes with a 16 GB SD Card and a power adaptor. It supports SD cards that are up to 64 GB. The camera is attached to the windscreen of the vehicle using the supplied suction cup. In addition, this dash cam wakes up and starts recording if its motion detector is triggered.
The Cobra Dash Cam protects the recorded video files if it detects impact. It uses G-sensor to detect such impacts. In addition, this dash cam uses a GPS antenna to track the location and speed of a vehicle.  In case a motorist is too close to another vehicle, the dashcam gives a warning.
The front camera of the Cobra CDR895D Dual Camera dash cam has an ultra-wide angle lens, 160o. In comparison, the lens of the rear camera has an angle of 130o. Check the technical specifications of the Cobra Dual Camera Dash Cam for more details about this dashcam.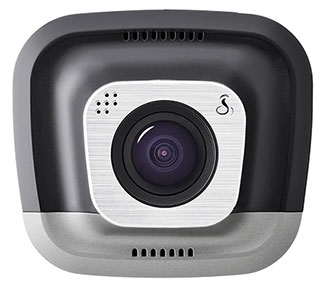 In case you are intending to buy a dash cam for your vehicle, it is important to consider the quality of the product before ordering. In particular, you should avoid products from grey markets such as eBay because the quality of the products is not guaranteed. Grey market products that are of poor quality which means they will usually fail after a few months. It is advisable to avoid products that cannot give you value for your money. Do not be lured by the low prices.
Neltronics is committed to providing Australian motorists with top quality dash cams. Visit windscreen-mount dash cams for a complete list of dashcams that we offer.
A dash cam is a video recorder that captures every moment that a motorist encounters on the road. A high quality dash cam such as the Cobra Dual Camera Dash Cam provides clear video footage that you can use if an extortionist is trying to obtain money from you. This dash cam has two cameras and allows you to drive more attentively and confidently without worrying about the front or the rear of your vehicle.
With a video footage from this camera, it is easy to know the driver at fault in an accident. This camera is also suitable for recording the front and the back of your vehicle when it is unattended, funny moments, collisions, and near-misses.
Neltronics offers a wide range of top-quality dash cams to Australian motorists. Contact us today to learn more about our dual camera dash cam models.