Speeding fines are irritating and expensive. When you or someone in your fleet gets a speeding ticket, it's a business expense that's totally preventable. Not to mention the risk of you or your fleet driver losing their license.
Since it's common to encounter both laser and radar detection from law enforcement, the best way to protect yourself and your fleet is with a radar/laser detector.
Neltronics offers a wide range of devices that detect both radar and laser. With a wide variety of devices, mounting equipment, you can customise your prefered setup for what you need it for. All models sold by Neltronics incorporate multiple sensors to maximize protection and confidence on the road.
One of the most popular models available from Neltronics is the Beltronics V940A Safety Radar/Laser Detector. This is detector has two receivers in the front for radar and laser. It picks up all bands of radar and laser including the most common speed cameras like the Virtonic PoliScan. On top of that, there's a laser diode receiver on top of the unit to give you 360-degree protection.
The Beltronics V940A radar detector (click here)
One of the many features that makes the V940A perfect for commercial use is its clear voice feature. It talks to you giving you clear information so you can keep your eyes on the road as well as bright LED display which tells you the mode, the band it detects, and the signal strength.
This model has three different modes to perfectly suit the needs of your fleet.
There's a city mode, a highway mode, and an auto mode which is a hybrid of the other two. City mode ignores many signals that can create false alerts like door openers while still picking up radar and laser from law enforcement. Highway mode alerts you of any radar or laser it picks up. Auto mode blends the two modes making it a good mode to leave it on if you're doing mixed driving between city and highway.
The V940A figures out false alerts by using Digital Signal Processing. When it picks up a signal, it figures out whether it's law enforcement and keeps down annoying noises for signals you don't need to worry about.
Even the construction of this radar/laser detector is high-tech. It has a magnesium chassis making it very lightweight. That means it won't be falling off your windshield while driving. It's secured to the windshield via a dual suction cup mount.
The mount is adjustable and locking. Just pick the right position for your vehicle, lock it in, and mount it with the strong suction cups.
This detector is highly customizable with its RJ11 jack. You can use the included smart plug to power the unit. A smart plug gives you extra LED indicators and a mute button. This is nice to have if the windshield is far away from the driver's seat in your vehicle. Instead of reaching over to the radar/laser detector, you can just use the smart plug. A variety of smart plugs and hard wire kits are available from Neltronics.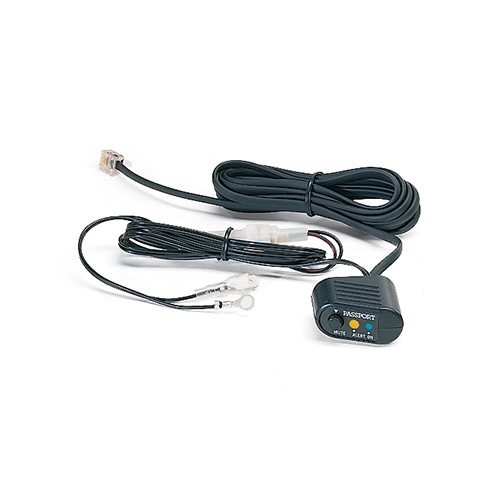 SmartCord Hard Wire kit with LED lamp and Mute Button (click here)
The final layer of protection from the Beltronics V940A is a one-year warranty. You can have peace of mind buying one for your vehicle or buying multiple for a whole fleet thanks to the excellent warranty and backup service with the service center located in Perth, Western Australia.
Another outstanding offering for a commercial radar/laser detector is the Escort 9500ixi, also available from Neltronics. Escort is one of the oldest names in the business and it shows in every detail of the 9500ixi.
Escort 9500ixi GPS enabled radar detector (click here)
This Escort detects all bands of radar and laser used by Australian law enforcement. The GPS integration is a big part of the functionality of this unit. It incorporates a GPS database of all red light cameras, fixed speed cameras, and speed traps and gives the driver advanced alerts when approaching the location of the camera. It also uses the GPS to learn and remember locations of false alerts like automatic doors from service stations and supermarkets. When it figures out these false alerts, it eliminates them so it only alerts you about signals you need to worry about. Users can also manually add locations with the press of a button to lock out a known false alert.
Like the Beltronics unit, this Escort also has a one-year warranty. Buy it with confidence for your whole fleet!
No matter which radar/laser detector you chose, make sure your whole fleet is properly equipped. You don't want to get stuck with costly, avoidable fines.
To see what speed measuring devices are used in your state, click here