Reversing cameras are becoming common standard equipment on new cars for good reasons. A reversing camera can add a layer of safety not just for you, but for other motorists and pedestrians.
With improved safety in cars also often comes with reduced visibility. Pillars are getting thicker all the time to protect us in rollover accidents, but they also make it harder to see out of the back of the car. That's where a reversing camera comes in.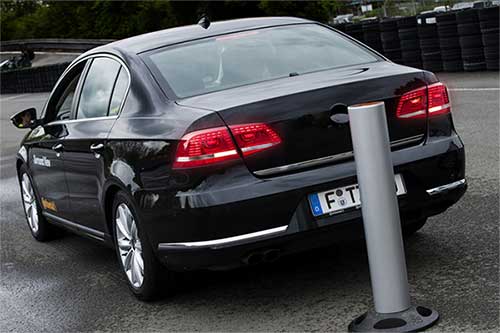 (even reversing sensors may not detect this pole)
There's a good chance you drive your car in reverse at least a few times per day. Wouldn't it be nice to have a perfect view of what's behind you?
Tired of straining your neck only to barely see behind you because of the chunky pillars in the way? A reversing camera isn't just for safety. It's also for convenience.
So how do you get started in adding a reversing camera to your car? It might sound intimidating, but it's easier than you may think.
Neltronics not only offers everything you need for a reversing camera system but several choices to customize the perfect setup for you. Let's take a look at a few of the basic components you'll need to get started.
This won't come as a surprise, but the first thing you need is the actual camera. Like any other camera, there is a wide variety of reversing cameras available. Finding the perfect camera is important in getting a system that works for you.
A few key features you'll want to look out for in a reversing camera are viewing angle, low-light performance, and mounting options. These three aspects of a reversing camera work together to give you the best possible view of what's behind you.
One of the best low-light reversing cameras on the market is the CCD-IR.
The CCD-IR camera is a high-resolution flush mount infrared camera. It has a 120-degree viewing angle which gives you a good view of what's behind you. It uses infrared to give it superior night vision making it perfect for low-light conditions.
This camera comes with a ring mounting kit allowing you to mount it just about anywhere. Once it's installed, it's flush and makes a minimal impact on the look of your vehicle. It's primarily designed for bumper bar mounting.
Planning on doing a lot of backing up in the dark? Sometimes your reverse lights aren't enough to see everything behind you. That's where the CCD-IR comes in handy.
Once you've got your camera, the next thing you'll need is a monitor. A camera doesn't do you much good if you don't have a screen to view it on.
Neltronics has you covered with monitor offerings like the NSM-40WM. This four-inch windscreen mounted LCD monitor is a great value. It gives you a 16:9 display for a nice, wide view and a built-in sunshade to minimize glare. Installing and moving it around is a breeze with the suction cup windscreen mount.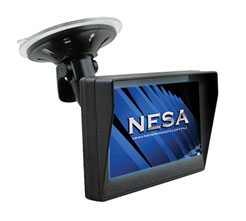 2 RCA video inputs feed the screen. It comes with an automatic video switching feature when a video source is detected like a reversing camera. This versatile, budget-friendly monitor makes a great companion to any reversing camera.
A different option is the dash mount monitor, like the NESA NRM-564 monitor with a 5.4 inch screen.
Looking for a bigger, better view? Upgrade to the NSM-7300 monitor. This is a big, seven-inch TFT-LCD monitor. It can be mounted via a bracket or a flush mount to make it look more permanent and truly part of the car.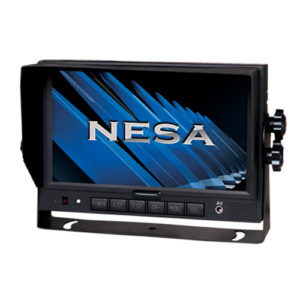 This screen has a very durable build making it great if it's exposed to the elements. This would be an ideal screen for a convertible or other vehicle where the interior is exposed to the outdoors. It has three RCA inputs, each with an individual trigger.
If you want a monitor that blends in even better with your car, check out a video mirror. Video mirrors actually replace your rear view mirror and have a built-in screen to show you what your reversing camera is picking up. You might be surprised by how affordable this fancy tech is.
One popular video mirror from Neltronics is the NSR-43R. This mirror is available with vehicle specific mounting brackets to make installation as simple as possible. It has two RCA inputs so plugging in your reversing camera is easy. When you put the car in reverse, you'll be viewing it right from the screen in your mirror.
Although installation is effortless on much of this equipment, we recommend professional installation for your reversing camera system. Getting it done by a pro ensures a clean installation that works the first time.
Why risk damage to property or your vehicle? What if there's a pedestrian behind you in your blind spot? Keep yourself and others safe, give peace of mind to your passengers, and make your drive a little more convenient with a reversing camera system.