If you're an experienced driver, you've probably seen your share of road rage, risky driving and collisions.
You may have also found yourself in one of those close calls that make you slam the brakes putting yourself and other passengers at risk of injury. Even the most capable drivers out there sometimes become unwilling participants in an accident, whether it's their fault or not.
The aftermath of such situations is usually a lot of wasted time, and occasionally a nerve-wracking struggle to prove who was at fault.
The police can also unwittingly make a misjudgement. There are reports of similar behaviour in Australia as well.
Such was the case of a man who was pulled over and almost fined for using a mobile device while driving. Fortunately, he was equipped with a two-way dash cam which was filming both the road and the cabin. When the officer saw the footage, it was clear that a mobile device was nowhere near his hand. He was merely scratching his ear. If such a thing can land you a ticket so easily, it's no wonder that dashboard cameras have gotten so popular worldwide.
The dash cam is an invaluable tool for drivers and a societal phenomenon in some countries like Russia. Ever since people started uploading this type of footage, Russia has become a driver's synonym for harsh road conditions, reckless driving, extortion, insurance fraud and police corruption.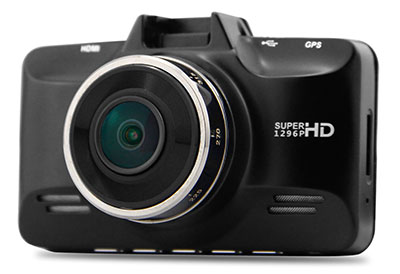 The Nesa CDV-350GPS SuperHD 1296p Dash Cam
Sharp increase in insurance scams
Unfortunately, there is also a global growth of insurance scams, not just in Russia.
A man from Canada was almost a victim of such a scam. He got accused of rear ending a truck and persuaded not to go through insurance and just pay up for the damages then and there. The scammers, he reported, had also impersonated police officers over the phone, shortly after the incident. The footage clearly showed the truck backing into his vehicle, and there was nothing he could do to prevent it.
The latest dash cam capabilities
Although dash cams have been around for a while, their capabilities, form factor and quality are getting better by the year.
The increase in video quality and storage space has gotten to the point where it's possible to pursue a hit-and-run perpetrator whose license plate was captured on just a few frames of the footage.
Depending on the manufacturer and price range, their capabilities may extend to:
Hands free start/stop,
Internal battery,
Loop recording and automatic overwriting of old records,
Auto recording via motion sensors when the car is parked,
Recording audio,
Quality night footage,
Multiple optical units (dual cameras or more),
Ultra-wide and fisheye lenses,
GPS synchronization,
G-force sensors,
Resistance to extreme environments such as parking under the sun or very low temperatures, etc.
As you can see there is a large list of various capabilities so it's important to look at those when deciding upon a suitable dash cam purchase.
Mounting options
Mounting and adjusting is usually pretty straightforward whether it's suction cup mounted on the windscreen, attached to the rearview mirror or fitted on the dashboard itself. The device itself is usually simplified and user friendly. Just a few buttons, indicator lights, an LCD screen with a simple menu and setup procedure which may also display what is being recorded.
The casing is usually black or some other neutral colour. Some models come in a smaller package without the LCD screen but equipped with Wi-Fi to stream the footage to a smartphone.
The main detachable components are: mounting parts, camera, SD card, battery and a cable.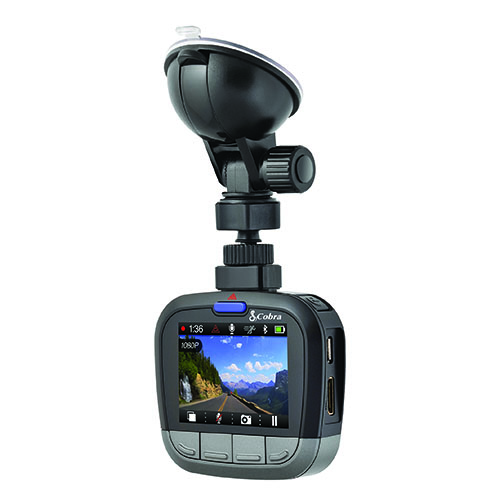 Cobra CDR855BT with Suction Cup Mount (coming soon)
Legal use
Dash cams are perfectly legal in  Australia and New Zealand etc. Recently, certain insurance companies in the UK have even incorporated policies such as discounts to encourage the use of dashboard cameras. This is slowly being recognised by insurance companies in Australia too.
Although the footage is private property like any other, sharing it throughout the internet is usually discouraged by the authorities, and may even have legal repercussions if it is currently being used as evidence in a case.
Police cars and sometimes motorcycles are, in some countries, equipped with dash cams or some sort of drive recorder system. Although, there have been reports of questionable situations where police officers were accused of sabotaging their own dash cams to conceal the dubious behaviour.
The most recent report covers a police officer in Queensland that had a dash cam record his own misconduct when pulling over a speeding motorist. He didn't turn on his sirens, nor did he radio his activity to the dispatcher. He pulled a gun pointing it towards the driver, swearing and yelling, later claiming he thought the car was stolen. The same officer had already shown improper behaviour a couple of years prior, which was also filmed and used in court to suspend the officer without pay.
Other than police, dash cams are also becoming a favoured investment for large transportation oriented businesses as a means of property protection.
Adoption is growing by the day for everyday people too, and the internet has probably contributed more to this trend than word of mouth and targeted marketing. Dash cams are quickly becoming the norm, and with good reason.
To see our range of high quality Dash Cams, click here