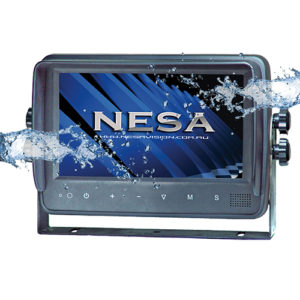 Waterproof 7″ Monitor (NSM-7360WM)
The Nesa NSM-7360WM is a fully waterproof (rated IP67) 7" TFT LCD colour monitor which is ideal for transport, marine, agricultural or earthmoving industry applications.
It features automatic backlit touch buttons, versatile display image which is adjustable for horizontal, vertical, mirror & normal viewing. 3 AV inputs with auto PAL/NTSC and in built speaker. The study U bracket reduces vibration.
LCD Screen: 7" Digital Wide View screen
LCD Brightness: 250cd/m²
Dot Pitch: 0.179 (H) x 0.0642 (W)
Resolution:  800 x 480
Viewing Angle: U:50/ D:70,L/R:70
Contrast: 500:1
Power Input: DC 10-32V
Power Consumption: Max. 6W
Video inputs: 3AV inputs
Audio inputs: 3 inputs
Image adjustable for horizontal, vertical, mirror & normal viewing
Automatic backlighting for buttons
Audio: built in speaker
Operating Temp: -20°C to +70°C